An area that is known for its many varieties oftraditional religious ceremonies.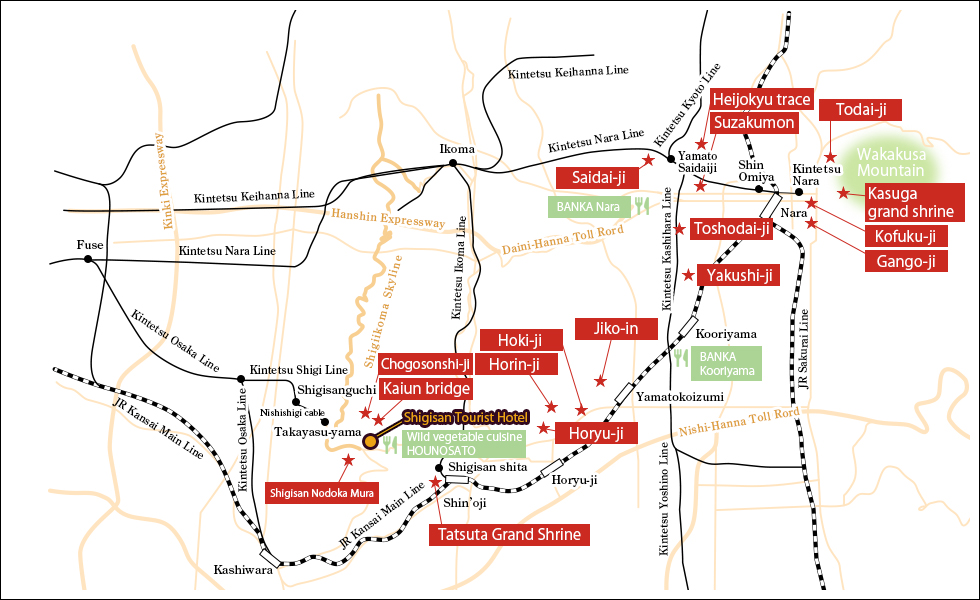 <!—01-Shigisan―>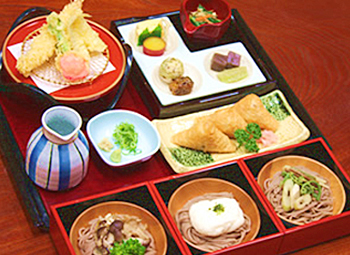 Wild vegetable cuisine HOUNOSATO
A 1-minute walk
It is popular also for day trip guests. Calmly tatami room, Through the three glass doors, you can see the wonderful four seasons scenery. We can accommodate 2 to 30 people. Feel free to enjoy wild side dishes with your family, friends, girls' association.
<!—02-Shigisan―>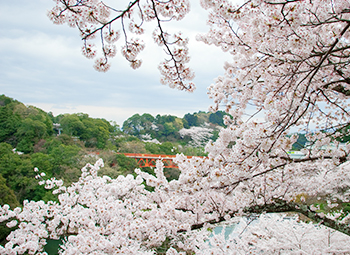 Kaiun Bridge
A 5-minute walk
The bridge is located in the approach to Shigisan Chogosonshi-ji, and in 2007 it has been recognized as a cultural asset value and registered as a registered tangible cultural asset in Japan. A wonderful bridge with both length and width is a favorite spot for many tourists who come to Nara! Green is beautiful in the vicinity and you can see beautiful cherry blossoms in the spring.
<!—03-Shigisan―>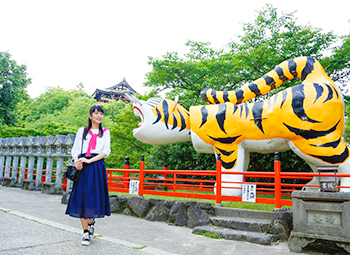 Shigisan Chogosonshi-ji
A 10-minute walk
Chogosonshi-ji is recommended for visiting power spots. About 1,400 yen from now, there is a tradition that Shotokutaishi won the fight against Mononobe no Moriya owing to the power of Bishamonten king. There is surrounded by the mountains throughout the precincts and surroundings, and you can enjoy the scenery every season.
<!—04-Shigisan―>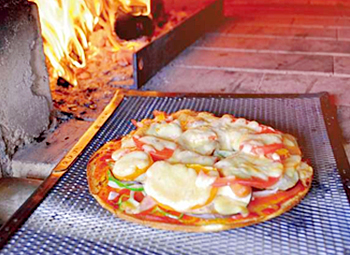 Shigisan Nodoka Mura
A 5-minute walk
Recommended for families and couples is here! Shigisan Nodoka Mura is an agricultural park that you can spend in the nature slowly all day, such as barbecue and restaurants, experiential classrooms, athletics and glass skiing. In the vast lawn open space, there is no doubt that it will be healed by clear air and a big sky.
<!—05-Shigisan―>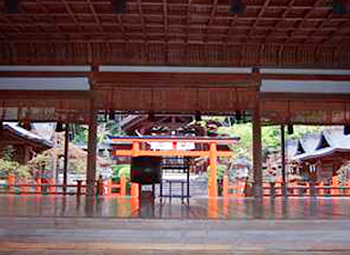 Tatsuta Grand Shrine
A 10-minute drive
Tatsuta Grand Shrine is a historical shrine that was believed for a long time as a god of the wind and is also popular as a power spot. The god of rituals is also known as Tatsuta God and Tatsuta Wind God. It is said that when it was bad harvest in the era of Emperor Sujin, it was said that it was built with the dream of this wind god's announcement.
<!—06-Shigisan―>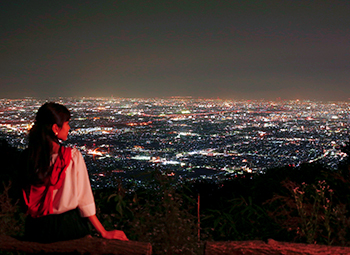 Ikoma Skyline
A 30-second drive to the entrance
A 15-minute drive to the observatory
If you enjoy the night view of Osaka, Ikoma Skyline is recommended! It is one of the most famous night view sceneries in Kansai, where you can enjoy the vast ocean of light that spreads from the Osaka plain to the Nara cemetery. In addition, there are Yamakami Observatory and popular Bell-riding Observatory along the way, and many couples and families enjoy the night view on weekends.
<!—07-Shigisan―>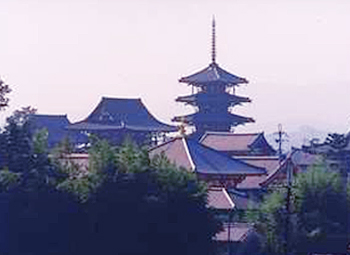 Horyu-ji
A 15-minute drive
Horyu-ji is the world's oldest wooden building. For the first time in Japan, it was registered with UNESCO 's World Cultural Heritage Site with Himeji Castle. The old building of Horyu-ji is fancy and attractive, and it is a popular tourist spot that many tourists visit.
<!—08-Shigisan―>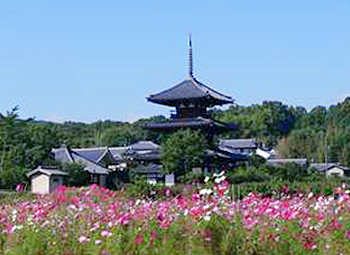 Hoki-ji
A 20-minute drive
There is the oldest triple tower in Japan and it is designated as a national treasure in Hoki-ji. The height is very large, 24 meters, and even the scenery seen from a distance is wonderful.
<!—09-Shigisan―>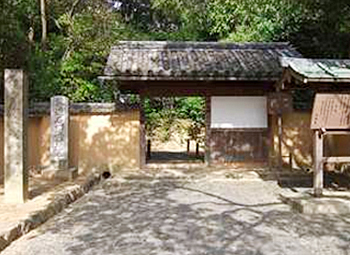 Jikou-in
A 25-minute drive
Sadamasa Katagiri, the lord of Yamato Koizumi, the founder of the Ishizu style tea ceremony, was built to mourn the father Bodai. It is a temple made entirely in the precincts as one tea ceremony, and you can actually have tea at the drawing room.
<!—10-Shigisan―>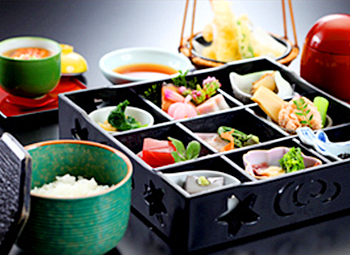 Japanese food BANKA Kooriyama
A 25-minute drive
Japanese cuisine Banka sticking to Japanese ingredients.
Commitment is local production of local consumption. You can enjoy tradition and creation, playfulness to your heart's content, make the most of Japanese seasonal ingredients.
<!—01-Nara―>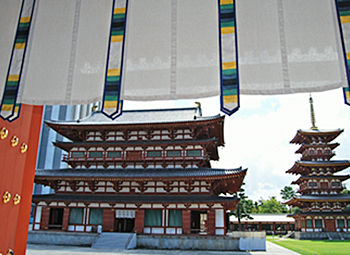 Yakushi-ji
A 40-minute drive
Yakushi-ji is also one of the 8 asset groups of the World Heritage cultural property of Ancient Nara. You can enjoy each of the attractive plentiful architecture such as fine gold road, big auditorium, east tower, vibrant west tower and so on.
<!—02-Nara―>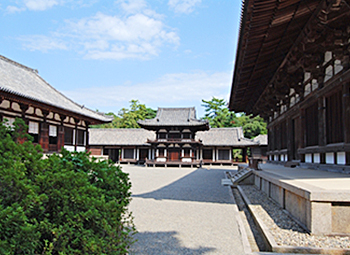 Toshodai-ji
A 40-minute drive
Tenpyo Buddha is lining in Kondo famous for its pillar of beautiful entertainment. It is one of 8 asset groups of world heritage cultural property of ancient Nara. Please enjoy the quiet and comfortable atmosphere.
<!—03-Nara―>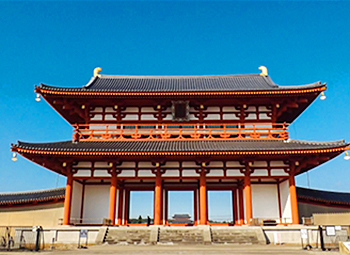 Suzakumon / Heijokyo trace
A 45-minute drive
It is a palace mark which was the center of Heijyokyo which was transferred from Fujiwarakyo in 710. Suzakumon restored as part of the commemorative project of Heijokyo transition capital 1,300 years is also a favorite place.
<!—04-Nara―>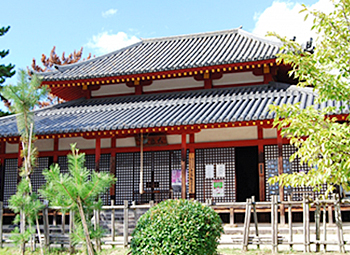 Saidai-ji
A 50-minute drive
Todai-ji is now famous, but in the Heijokyo period, it was a temple with a large cathedral as Todai-ji in the east and Saidai-ji in the west. It is also a pleasing point that Buddhist attraction price is free.
<!—05-Nara―>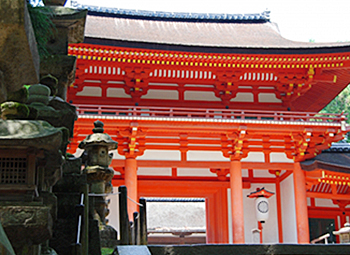 Kasuga Grand Shrine
A 50-minute drive
Approximately 300 species of flowering plants that are shown in Manyoshu are planted in the garden, and related Manyo songs are attached. In 1998 it was registered as a World Heritage Site as cultural property of Ancient Nara.
<!—06-Nara―>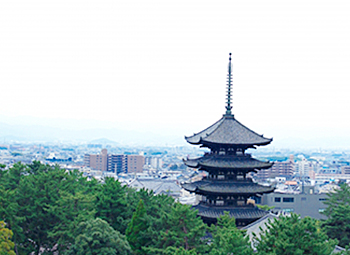 Koufuku-ji
A 50-minute drive
In the precincts there is a five – storied pagoda, which is said to have been built by the Komyo Empress, a national treasure building of Kita – kodo, a southern circle, a national treasure building etc. It is a sightsee spot full of highlights.
<!—07-Nara―>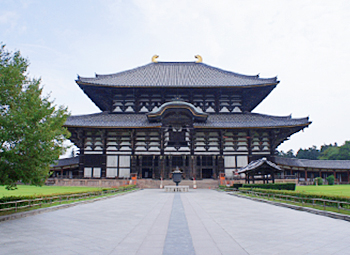 Toudai-ji
A 50-minute drive
In 1998 it was registered as a World Heritage Site as cultural property of Ancient Nara. The premises of Todai-ji, famous as a sightseeing spot, are also full of highlights, including the Buddha of Nara.
Nara City Southern and Others
<!—01-Others―>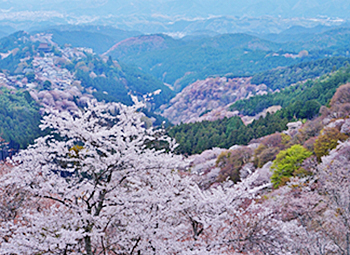 Yoshino-yama
A 90-minute drive
Yoshino mountain known as the cherry blossom spot in Japan. Cherry blossoms gradually blooming from the lower thousand of Yoshino mountain in the spring, the Yoshino mountain is beautifully up to Okito, and it will color up brilliantly. Light up at night and enjoy mysterious cherry-blossom viewing different from daytime.
<!—02-Others―>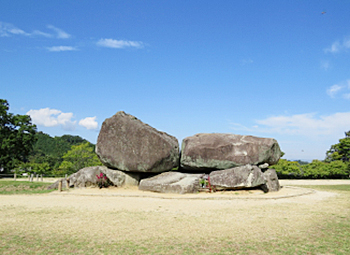 Asuka Village
A 70-minute drive
Asuka village is a village located near the central part of Nara prefecture. Since it is the place where the centralized authority state once was born, many palaces and historic sites of the Asuka period were excavated.
<!—03-Others―>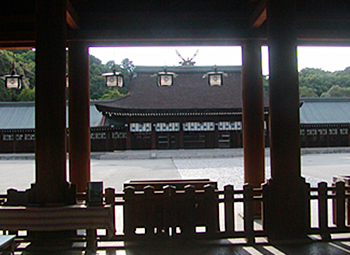 Kashihara Shrine
A 50-minute drive
The hinoki crocodiles built in the vast sacred area of ​​about 500,000 square meters at the southeastern foot of Mt. Fujiyama, the main hall of trees and Kagura dance harmonize with the approach of Jade Gravel and the green of the deep forest which is the background, I can not say refreshing and creating a harsh atmosphere.
<!—04-Others―>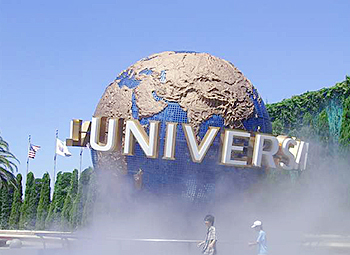 Universal Studios Japan
A 60-minute drive
Universal Studios Japan is immersed in another world full of excitement, such as rides that Hollywood's masterpiece movie that everyone knows, and shows of popular characters.
<!—05-Others―>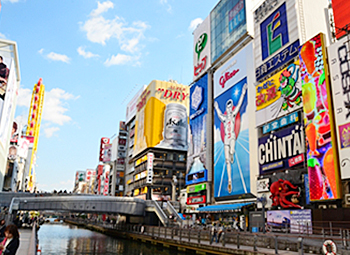 Osaka Dotonbori
A 50-minute drive
You will arrive in about 50 minutes from Shinshi sightseeing hotel to Dotonbori in Osaka. Osaka prefecture Osaka city Chuo Ward's downtown area "Dotonbori" is a popular place for shopping and sightseeing.
<!—06-Others―>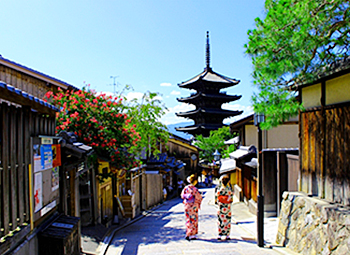 Kyoto
A 75-minute drive
Kyoto with various historical landscapes, temples and shrines. It is a popular tourist city from all over the world.
<!—07-Others―>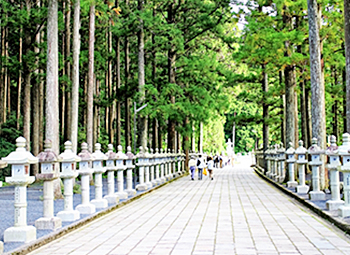 Koyasan
A 120-minute drive
It is a mountain with an altitude of about 900 m in northern part of Wakayama Prefecture. Koyasan which spreads in the mountain basin surrounded by the mountains of Hachiba like lotusu is the sacred place of Shingon Buddhism which is representative of Japan where Kotobukiya and Kukai opened.
<!—JSスクロール―>